News
---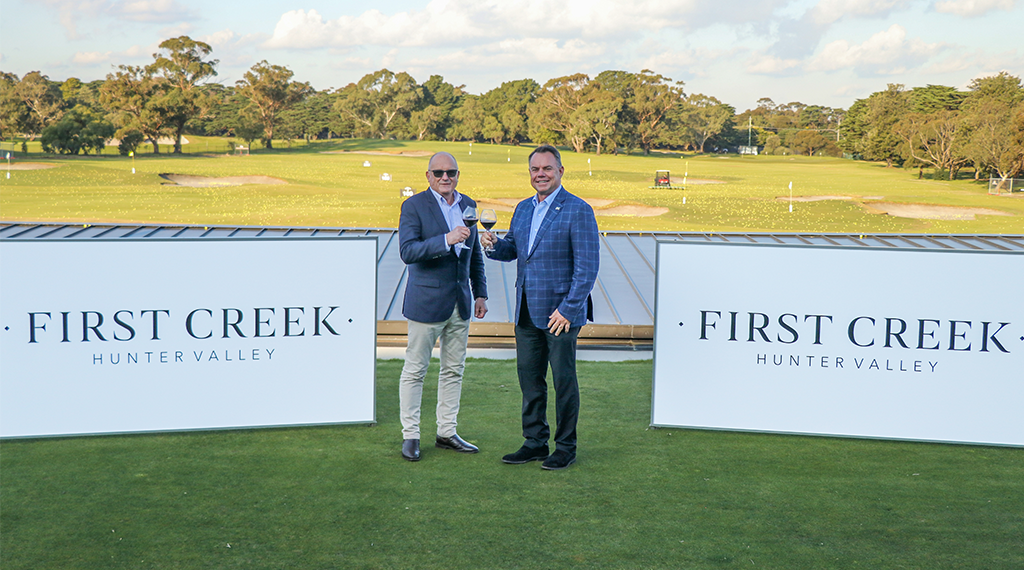 The PGA of Australia is delighted to welcome First Creek Wines as the Official Wine Partner of the PGA of Australia and the ISPS HANDA PGA Tour of Australasia.
First Creek Wines is a family-owned and operated winery located in the Hunter Valley, New South Wales with a passion for producing great wine.
The multi-year deal will see First Creek Wines served at all PGA of Australia events including the Fortinet Australian PGA Championship, all State PGA Events and The Webex Players Series, which is where the partnership was first seeded.
The PGA of Australia's Commercial Director of Australasia Michael McDonald said the partnership came about following a successful partnership venture for a single event in 2021. "The partnership with First Creek Wines is something we're really proud of at the PGA of Australia and exemplifies our commitment to delivering value for our partners," McDonald said.
"The longer-term and more expansive partnership we're announcing today came off the back of a successful smaller partnership earlier this year at The Webex Player Series Sydney.
"First Creek Wines have collected a series of awards and accolades over the years and the PGA of Australia is delighted to be bringing a wine partner on board that reflects our values in its drive to achieve the highest standard in their field.
"We are excited about the future of our partnership with First Creek Wines."
Founder and Managing Director of First Creek Wines Greg Silkman said First Creek Wines is at an exciting point in its history.
"First Creek Wines is one of the premier producers in the Hunter Valley and we're excited to share our wines with even more people through our partnership with the PGA of Australia," Silkman said.
"As the Official Wine Partner of the PGA of Australia, there is so much opportunity for us to introduce our wines to more people at the nation's biggest golfing events.
"We are a family owned and operated business and there is a natural alignment between our brand at First Creek Wines and the PGA of Australia which made the decision to expand our partnership an easy one."
The future of the partnership between First Creek Wines and the PGA of Australia is already being mapped out with a bespoke range of golf wines already under development.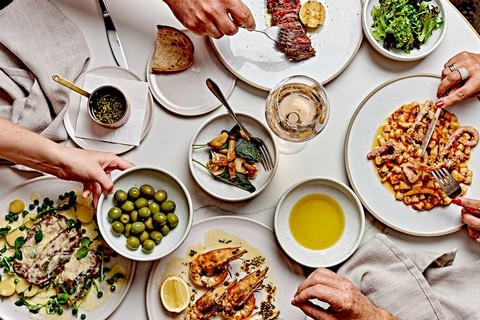 First Creek and éRemo Restaurant
present a four course exploration of delicious food and wine this July.
Head Chef, Michael Elfwing, will create a culinary journey that will meld with a selection of First Creek wines chosen to perfectly match each dish. Greg Silkman, founder and managing director of First Creek, will take you through the wine selections and talk about the history of the Hunter and the significance of each wine paired with the courses.

30 July - 1.00pm
57 Ekerts Rd, Pokolbin NSW 2320
Price is $185 including dinner and matched wines.*

Tickets available online
Click Here

Call 02 4998 7293 opt 3 for more info and to notify of dietary restrictions
Dietaries due by 23rd July

*Menu and wines to be announced at a later date.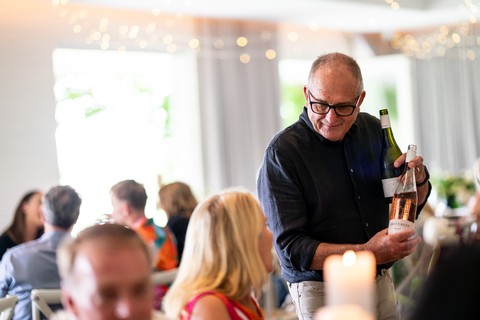 Enjoy dinner among the vines with a glass of First Creek wine in hand.
Head Chef of Restaurant Botanica, Chris Rhoney, and Greg Silkman from First Creek Wines have come together to present a dining event you won't want to miss. Sample Botanica's award-winning cuisine and experience how each dish pairs with First Creek's distinctive wines.
Price is $180 including dinner and matched wines.*

Click here for more information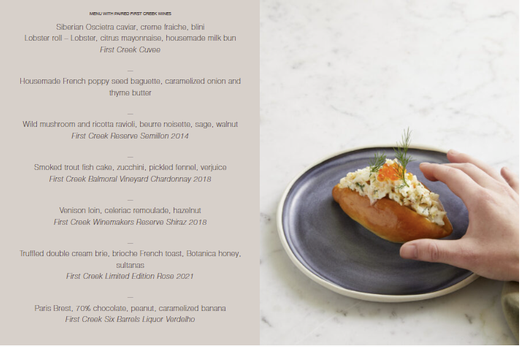 For more information and to book:
Contact Spicers Vineyards Estate Reception on 1300 192 868 or via reception.vineyards@spicersretreats.com to book.


*This is not a First Creek Hosted Event and is not eligible for the free tickets awarded to Reserve Club Members.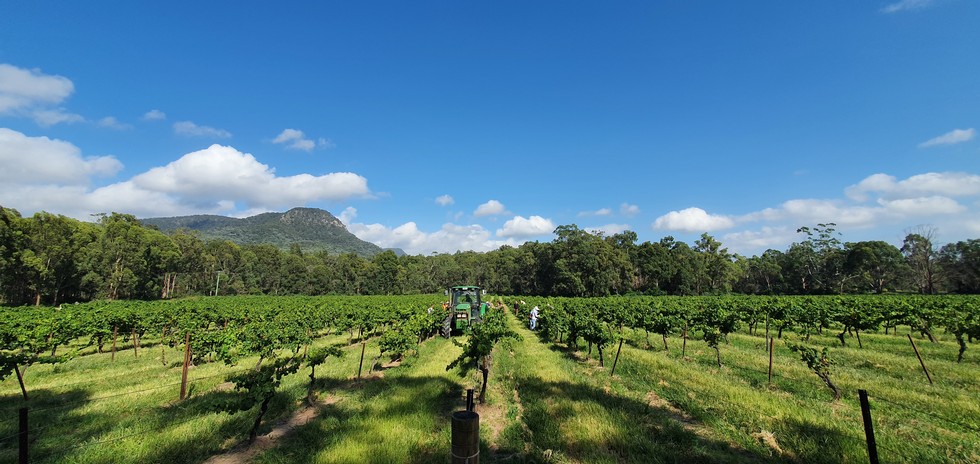 History of First Creek (The Creek)

First Creek would like to start by acknowledging the traditional lands, where we are located, of the Wonnarua tribe of the Kuringai nation and pay our respects to Elders past, present and future.

Did you know? The Hunter Valley is one of Australia's best known wine growing regions supplying over 3% of total wine for the whole of the country. The Hunter played a critical role in elevating the commercial wine making scene in Australia to what it is today. The Hunter Valley comes with a wealth of history as one of Australia's first commercial wine regions.

Original vine cuttings and vineyards were planted around 1820, and it wasn't until the 1930's that the Hunter Valley started to become front and centre as a commercially widescale wine producing region. Pokolbin, located in the heart of the Hunter, contains the highest density of vineyards in the Hunter region and is at the heart of where the Hunter Valley started as a wine region.
First Creek, the actual creek that we name ourselves after, played a huge role in Pokolbin, supplying high quality water to many of those first vineyards in the Hunter Valley. The vineyards that we draw our grapes from today are fed by First Creek which runs from East of Wine Country drive, starting at Black Creek, and navigates to the west of Mcdonalds road just behind Pokolbin Leisure Inn.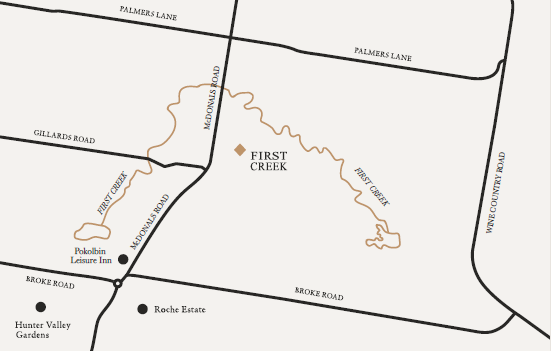 (Image: Map of First Creek and surrounding area)
History of First Creek (The Winery)
It all began in 1998 when our founders, Greg and Jenny Silkman, purchased a parcel of land bordered by First Creek in the Hunter Valley. Greg's vision was to improve the quality of the Hunter's boutique wines with a sensitive bespoke approach supported by traditional winemaking and state of the art technology. The following years saw remarkable innovation and success. Our first bottling line was purchased in 2000 and Shaun Silkman completes his first vintage in 2001.
It wouldn't be until 2005 that the first bottles of First Creek wine are released with Greg Silkman as Winemaker. It was around this time that our bottling line also expanded with its second line. Liz duxes the Len Evans tutorial in 2006 (described as the most exclusive wine school in the world). Two years later Liz would join the First Creek team in 2008. Fast forward through a few good years of wine and Liz wins 'Winemaker of the year' in 2011's Hunter Valley legends and Wine Awards. First Creek would see many firsts in the next 10 years. Especially with awards and trophies flooding in. Including Best Hunter Valley Chardonnay.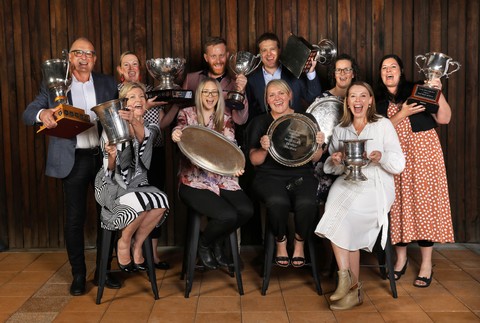 Last Friday the 5th of November, The Hunter Valley Wine Show trophy winners were finally revealed!

First Creek were honoured to receive 5 trophies for the 2014 Single Vineyard Blackcluster Semillon and 1 Trophy for the 2021 'F.C.R.' Rosé.
A huge congratulations to all winners on the day, it was an incredible showing and we are so proud of our Region and all the wonderful wines we got to experience.
Come to Cellar Door to try some of our Gold Medal award winners:

---
The 2014 Blackcluster Semillon

Trophies
Maurice O'Shea Memorial Trophy:
Best Semillon

Mcguigan Family Trophy:
Best Two Year Old Semillon and Older
Tyrell Family Trophy:
Best Single Vineyard White

Len Evans Trophy:
Best Single Vineyard Wine

Petrie-Drinen Trophy:
Best White Wine of the Show

If you are interested in acquiring some of this award winning semillon, please register your interest below.*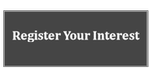 ---
Coming Soon
Gold Medal Winners

2021 CDR Vermentino
2021 Regions Semillon
---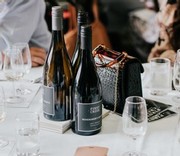 Sign up to the Reserve Club to secure your Winemaker's Reserve for next October Allocation:
---
For more information:
Call: 02 4998 7293 or
Email: wineclub@firstcreekwines.com.au
*Registering your interest is not a commitment to purchase, offers will be distributed as first come first served if the wine is made available. The 2014 Blackcluster Semillon is not gauranteed to be released and this is purely an expression of interest. In the event that we are unable to fulfill all requests, we will not be contacting those that missed the cutoff for the allotment we had made available. Pricing and limitations will be discussed to all eligible parties prior to purchase. Wine will only be offered out when it is in a state that is ready to be shipped. Cut-off for registering your interest is the 25th November 2021.



2021 Regions Verdelho
This Verdelho marks the first of an exciting series of new releases from the 2021 Regions Range.

Over the weekend, judges from the Hunter Valley Wine Show have awarded this spectacular wine a gold medal in the Verdelho class.

Members have already been enjoying the 2021 Regions Verdelho as a part of an early access release. Rave reviews are coming in and it is likely stock wont stick around for long!

If you are a Verdelho fan, best get in before it is too late.
---
2021 Regions Verdelho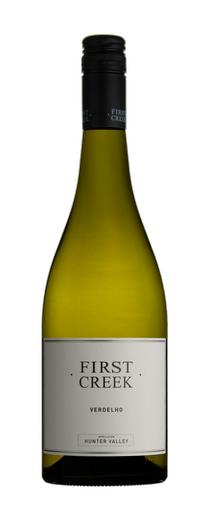 Region
Hunter Valley, NSW
Colour
Bright and vibrant.
Aroma
It carries an aroma of Citrus, melon and passionfruit with hints of honeysuckle and spice.
Palate
Our Verdelho Medium bodied with ripe fruit flavours, balanced with fresh acidity and a lingering finish.
Food Pairing
Creamy Cheese Board, Olives, Risotto
Ageing Potential
Now to 2024.

Alcohol Content
12.5%.
---
For more information and to purchase: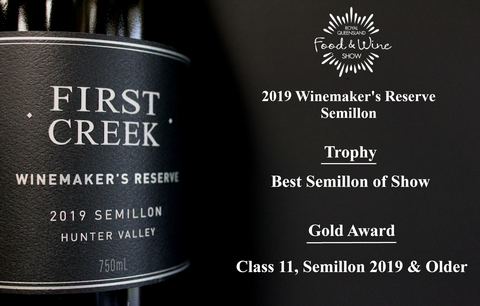 First Creek are proud to announce that our 2019 Winemaker's Reserve Semillon has just received the trophy for 'Best Semillon of Show' at the Royal Queensland Food & Wine Show.
To secure your limited release 2019 Winemaker's Reserve Semillon:
click here
---
---
For more information:
Call: 02 4998 7293 or
Email: wineclub@firstcreekwines.com.au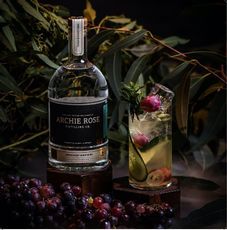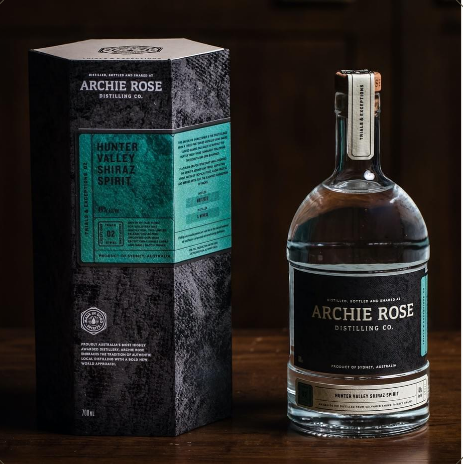 Photo Credit: Archie Rose
First Creek is delighted to announce our involvement in Archie Rose Distilling Co.'s most recent project, along with our friends at Tulloch Wines. Introducing the brand new Hunter Valley Shiraz eau de vie spirit!
On 25 May 2020, Archie Rose will release the Hunter Valley Shiraz Spirit, an eau de vie distilled from salvaged smoke affected grapes as the first product in a three-part series to support the Hunter Valley wine community.
This Limited Hunter Valley Shiraz Spirit represents a new life for the many tons of smoke affected grapes that were lost in the 2020 vintage across the region.
Displaying lively notes of tropical fruits, crème fraîche and berries with just the slightest suggestion of smoke, its an adventurous spirit, unusual at first in taste but excellent with the simple addition of fresh-pressed apple juice or even Coca-Cola and freshly squeezed lime juice. Or why not try it in our twist on the Paloma—The Pokolbin, where the eau de vie effortlessly replaces tequila in a knock-out grapefruit highball.
There will be 1000 bottles of Hunter Valley Shiraz Spirit on pre-sale.
For more information and to pre-order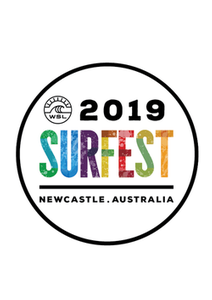 We are proud to be an Official Wine Sponsor of this year's Surfest.
More than an iconic surfing competition showcasing some of the world's most talented athletes, Surfest is a fun and lively celebration of the Hunter Valley and all it has to offer.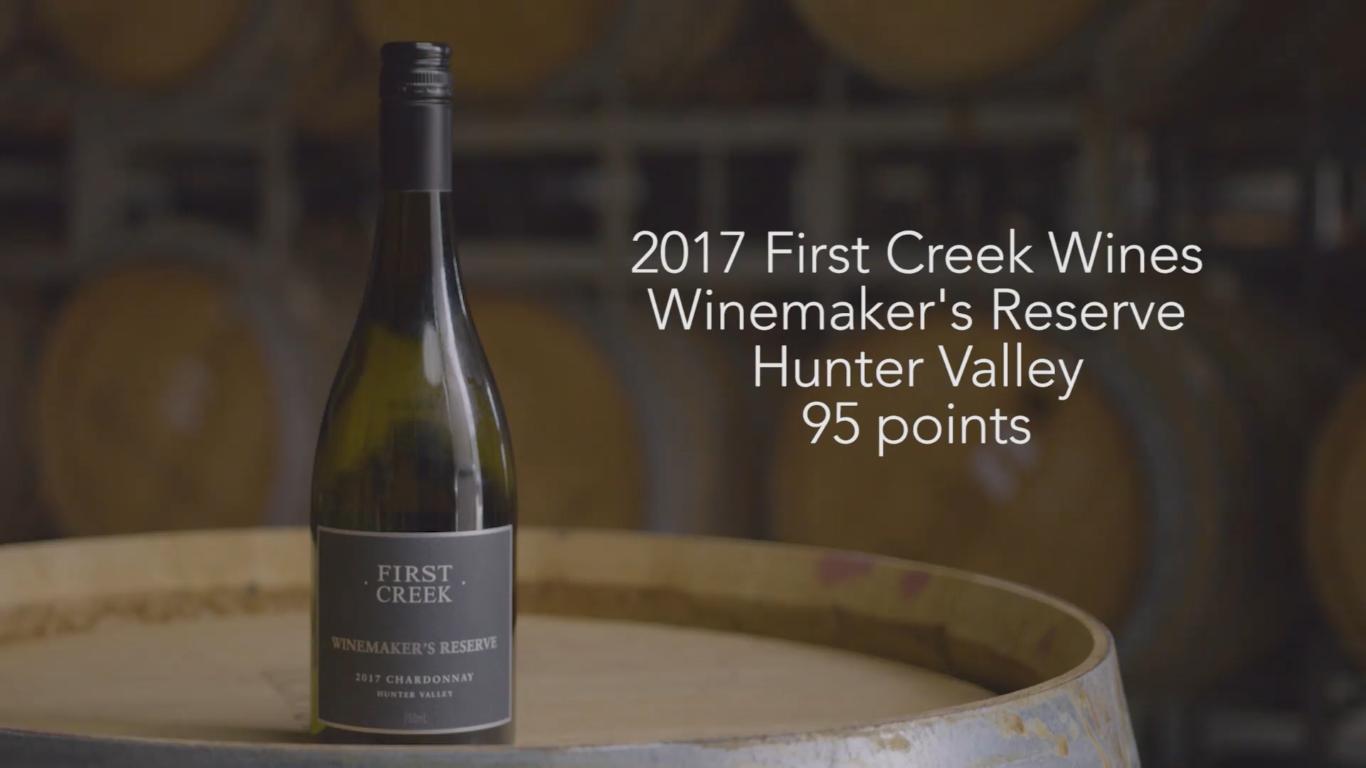 We are delighted to announce that our First Creek 2017 Winemakers Reserve Chardonnay has won the James Halliday 2018 Chardonnay Challenge - Best Hunter Valley Chardonnay. Find out what Mr Halliday had to say about our wine and all the other amazing Chardonnay winners here:
To celebrate, we are launching this 'award-winning' wine in our Cellar Door this weekend!
To purchase the latest Chardonnay vintages: