Winemaker's Reserve Lunch Newcastle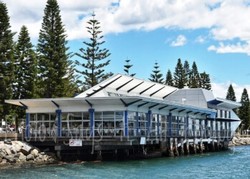 About The Winemaker's Reserve range and the importance of the luncheon
First Creek's Winemaker's Reserve range encapsulates regional and vineyard provenance, winemaking skill and integrity, as well as the essence of the First Creek style. We select grapes from benchmark vineyards, only in vintages when the fruit reaches the pinnacle of viticultural quality. The result is small batches of exceptionally rare and special wines.
Only wines that meet the Winemaker's Reserve range standards of excellence are released under this label. This multi-award winning range is recognised as some of the best examples of Semillon, Chardonnay and Shiraz in Australia. Each October, we release our new vintages range at our annual member's Winemaker's Reserve Lunch. Here, members can enjoy the latest release alongside our carefully cellared back vintages.
Our Winemaker's Reserve Luncheons are your chance to meet the family and come celebrate with us as the First Creek Community. This series of intimate luncheons are an opportunity to bring people together in small format experiences, focussing on connection to community, to family and to exquisite vintage.
First Creek Winemaker's Reserve Lunch 2019
First Creek is excited to share that we will be arriving at Scratchley's on the Wharf and bringing with us our new releases in the Winemaker's Reserve range.
Come along on the 02nd of November and enjoying breathtaking ocean views, incredible food from Scratchley's on the Wharf and the finest wines the Hunter Valley has to offer.
This is set to be an amazing, not to be missed event where you can wine and dine in an intimate setting with some of the key members of the wine making team as well as the Silkman Family.
This event is limited so do not miss out and book your tickets today!
Details:
Where:
Scratchley's on the Wharf, Newcastle
When:
2nd November 2019
Price:
$150pp inclusive
This is an over 18s event. Members are allowed to purchase for and invite non-member guests.
Limit 50 tickets.
Please contact us if you have any dietary or special requirements. wineclub@firstcreekwines.com.au or 02 4998 7293.