Taste the Range 3-Pack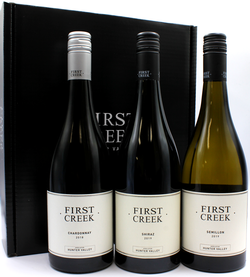 Take home this beautiful three pack of our First Creek flagship varieties.
Whether you are new to our range or are looking to introduce someone to the best of the Hunter, this is your easy introduction to First Creek wine.
Normally $75 + $15 Shipping. Now only $70 including Free Shipping.
Includes:
- Free Shipping
- Wine is shipped in a beautiful black gift box
- 1x 750ml 2019 Regions Chardonnay
- 1x 750ml 2019 Regions Semillon
- 1x 750ml 2019 Regions Shiraz
Why not include a gift message? We will put your message straight in the box so your recipient knows who to thank for some incredible wines.
Product Reviews